Zoo calls for volunteers in its hour of need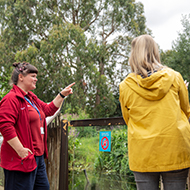 Posts available at London and Whipsnade Zoos.
As ZSL London Zoo begins to get back on its feet, the organisation is putting out a call for volunteers who have time to help out. It comes after three months of unprecedented closure, which has seen zoos across the UK come under enormous financial pressure.

Volunteers will be required to commit to a minimum of half a day each fortnight, helping to assist zoo visitors as they make their way around. Volunteer manager Rhiannon Green said: "We need cheery, flexible people who can help visitors enjoy their day while respecting the measures that keep everyone safe."

For more information, visit zsl.org/volunteering. Posts are available at both London and Whipsnade Zoos.