Battersea Dogs & Cats Home celebrates 160th anniversary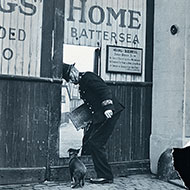 Leading pet charity relives its past through pictures and stories

One of the UK's oldest animal welfare charities, Battersea Dogs & Cats Home is celebrating its 160th anniversary this October.
To mark the occasion, Battersea is sharing pictures from the home's history and stories of various events and unusual happenings that have taken place in its 160 years of operation.
Included is the story of a piglet named Percy, who was brought into Battersea after being found in Blackheath Common, as well as other unusual animals that the charity has taken care of.
Battersea has also shared a newspaper cutting from August 1957 talking about its team of all-female ambulance drivers, who would drive around London picking up stray dogs and cats.
The charity is sharing these facts and photos with the public throughout the month on its Facebook, Twitter and Instagram pages.
Battersea was founded in 1890 by Mary Tealby and was named 'The Temporary Home for Lost & Starving Dogs'. It was based in Holloway, North London, before moving to Battersea in 1871.
The home survived both World Wars and two bombings over the years. The original cattery, Whittington Lodge, still stands today as a heritage building in the London site.
Battersea now employs more than 1,000 volunteers and 550 members of staff. The home cares for more than 7,000 dogs and cats across its three centres every year.
To stay up-to-date with the anniversary celebrations, follow Battersea on its social media channels.
Images Battersea Dogs & Cats Home.