RSPCA to continue rescuing animals in Wales during 'firebreak' lockdown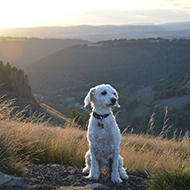 Charity urges public to seek guidance on new restrictions

The RSPCA has confirmed that it will continue to answer emergency and cruelty calls made to its helpline during the upcoming 'firebreak' lockdown in Wales.
The new restrictions - which come into force today (Friday 23 October) – have led to the closure of the RSPCA animal centres in Newport and Bryn-Y-Maen in Upper Colwyn Bay for the duration of the lockdown. However, staff at these sites will continue to care for the animals based there and take in newly rescued animals.
Following discussions with the Welsh government, limited rehomings will still be taking place virtually, with pets being delivered to owners by the RSPCA.
All RSPCA charity shops in Wales will be closed along with other non-essential retail, and the RSPCA Merthyr Tydfil Veterinary Clinic will be providing emergency-only appointments to clients for the two-week period.
Further advice for animal owners during lockdown can be found on the Welsh government website.
RSPCA's Chief executive, Chris Sherwood, said: "As we approach this 'firebreak' lockdown in Wales we want to reassure everyone that our dedicated team of frontline staff will continue to provide care for the most vulnerable animals in Wales and respond to calls to our cruelty line.
"We appreciate this is another unsettling time for animal owners and urge everyone to seek the advice and guidance ahead of these upcoming two weeks.
"I'd also urge anyone struggling with their pet to ask for help. Animals have been there to help us through the crisis - please don't abandon them now."
The charity is also urging local authorities to relax Public Space Protection Orders (PSPOs) in certain areas, to ensure that dog walkers have adequate space to exercise their pets in their local area and to reduce unnecessary travel.